We miss having events (don't we all?!). Staying home and rearranging our toys just isn't enough to keep our crazy creative minds happy, so team Mighty Jaxx decided to embark on something big. And crazy. And it's coming to life in a few days.
Mighty Jaxx is proud to present our very first themed experiential virtual space featuring a virtual environment inspired by the late Mamafaka's art and life. After 5 months of development, working closely with the family estate of Mamafaka, Mamafaka's Hideout is born! While it's not live yet, here's a sneak peek of some of the exciting stuff that you can expect. Let's head down, shall we?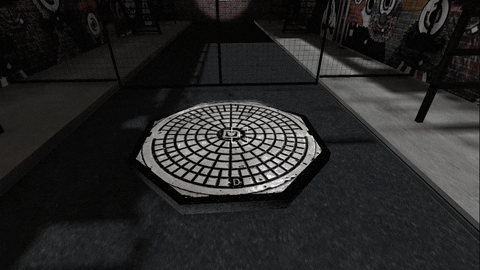 The secret lives of Reaper Rats and Mr HellYeah...
 

#1: A WASD-control Virtual Exploration Experience
Inspired by the nostalgic cartoons and video games that Mamafaka's art so often parody, we are going to take the virtual experience to the next level. With WASD and mouse control, we want to simulate a video game-like experience in Mamafaka's Hideout. Call it a virtual event, virtual space, virtual gallery, or virtual store, we really wanted to bring a virtual experience that is more explorative and immersive than ever.
With that said, Mamafaka's Hideout is only available on desktop. Remember to turn on the sound for the full experience!

Learn more about Mamafaka's life and works

#2: 2 Themed Rooms
That's right, two separately themed rooms await beneath a manhole! One side is the home of the rodent couple Reaper Rats, while the other side pays tribute to Mamafaka's influence in the street and skate scene.
You'll find "life size" installations, trippy wall decor, UFO machines and many more interesting features in the rooms - lots to read and play. Each room also features different products which you will be able to purchase. Be sure to explore both sides and click around in there, as there are little surprises hidden!

One of the rooms in Mamafaka's Hideout. Excited yet?
#3: 5 Brand New Product Launches
It's our tradition to launch a couple of brand new products at events and conventions, so there is no exception this time, even for a virtual event! Five spanking new products from Mamafaka will be launching exclusively in Mamafaka's Hideout. Like a real event, these items are also all in stock and ready for you to bring home. 
We're not revealing their details here, and you won't find them in the Mighty Jaxx online store, so this is another reason for you to visit Mamafaka's Hideout. Heck, do you really need more reasons!?

Grab some brand new drops while you're there!

#4: Exclusive Giveaways
What, more reasons!? Game on! There are two major giveaways that will go on throughout the period of Mamafaka's Hideout. The biggest perk of these two giveaways is that they are NOT based on luck, so keep your peepers peepin' and there's a good chance for you to win both! Read on if you're in it to win it!
Giveaway #1: Find the WHITE Mr HellYeah Junior in Mamafaka's Hideout
Have you've seen the teaser on our Instagram? Our cheeky little friend, Mr HellYeah Junior White, has gone hiding in Mamafaka's Hideout! And here are some clues to finding him.
There's a very curious decor on a certain wall, where you can play a game of Finding HellYeah Junior. If your keen eyes are able to spot him... congratulations! You will earn a voucher to bring him home for free with any purchase of at least one other item from Mamafaka's Hideout.
Note that this giveaway is while stock lasts. Remember to read the terms and conditions inside the Mamafaka's Hideout!

Test your eye-power, find this one-eyed Mister
Giveaway #2: Stake out for RED Mr HellYeah Junior on Mighty Jaxx's Insta-stories
Over the course of the 5-day virtual event, we will be dropping a new secret code at a random time each day (so 5 codes in total) via our Insta-story. This secret code can be entered in a secret pop-up within Mamafaka's Hideout, and what are you gonna get with the code? If you are one of the first 8 people each day to key in the code, you get to checkout an ultra rare RED Mr HellYeah Junior Mini Plush, absolutely free. No minimum purchase, no shipping fees, just free.
8 per day, over 5 days, so a total of 40 to be won, quick math. Yes, the RED Mr HellYeah Junior Mini Plush is an edition of 40 only, exclusive for this giveaway at Mamafaka's Hideout! Tell your friends!
Some tips from us will be to go into the Mamafaka's Hideout as soon as it launches on 6 Aug, hunt for the place where the pop-up appears, and your detective groundwork is done. Next, turn on notifications for Mighty Jaxx's Insta-story so that you'd immediately be notified when we make a new post. If you are unsure how, here are the steps.


Once you've entered the correct code for the day, the item will be added automatically into your cart and you have to checkout your cart as soon as possible. Entering the code doesn't count, checking out is what counts. Make sure you are not using any other voucher codes and the price of the RED Mr HellYeah Junior has been updated from $999 to $0. If it's $999, we're sorry, you got the correct code but you're a tad too late to use it that day, please try again the next day. DO NOT checkout the product at $999. Once again, to be sure, read the giveaway terms and conditions!
What an obvious hint...
So there you have it! We hope you're on the edge of your seats, and we look forward to seeing you at Mamafaka's Hideout, happening right here on Mighty Jaxx, from Aug 6 – 10, 9am EST. Be sure to share this article with your friends to spread the exciting news, and follow us closely on Facebook and Instagram for the latest updates! HellYeah!!!