Last week we brought you an interview with PAYNK, you asked for more artist interviews and this week we bring you another - with Ilustrata!

Ilustrata is an illustration studio based in Brazil, composed of three guys (Bruno, Victor and David), graduates in graphic design. The studio was created in 2013 during their graduation year. Lovers of Japanese culture and retro arts, they have created a very recognisable style, mixing these references with their particular voice. Let's find out a little more about the trio behind Ilustrata! 



Hello! Let's begin with getting to know you. Tell us a little about yourselves and what you do!

We're a small illustration studio based in Brazil. The team is composed of three guys - Bruno, Victor and David. We've been illustrating for about 5 years.

At the beginning, we were more of a design studio than an illustration one, but after a year, we were just lost, without any clients or money. So we thought "we don't have any projects, let's create something on our own." so we started to create t-shirt designs.

At the beginning we weren't that good, and things got hard for a while. But we were working with something that we love, and we were still able to pay rent and that was good enough for us - just boys in their twenties drawing and having fun and finishing university.

Over time, our skills improved and we began to receive project proposals. Our work started to gain visibility; and most importantly, I think we finally found our voice.

A landmark moment was our first hit, the 'Broccozilla' design.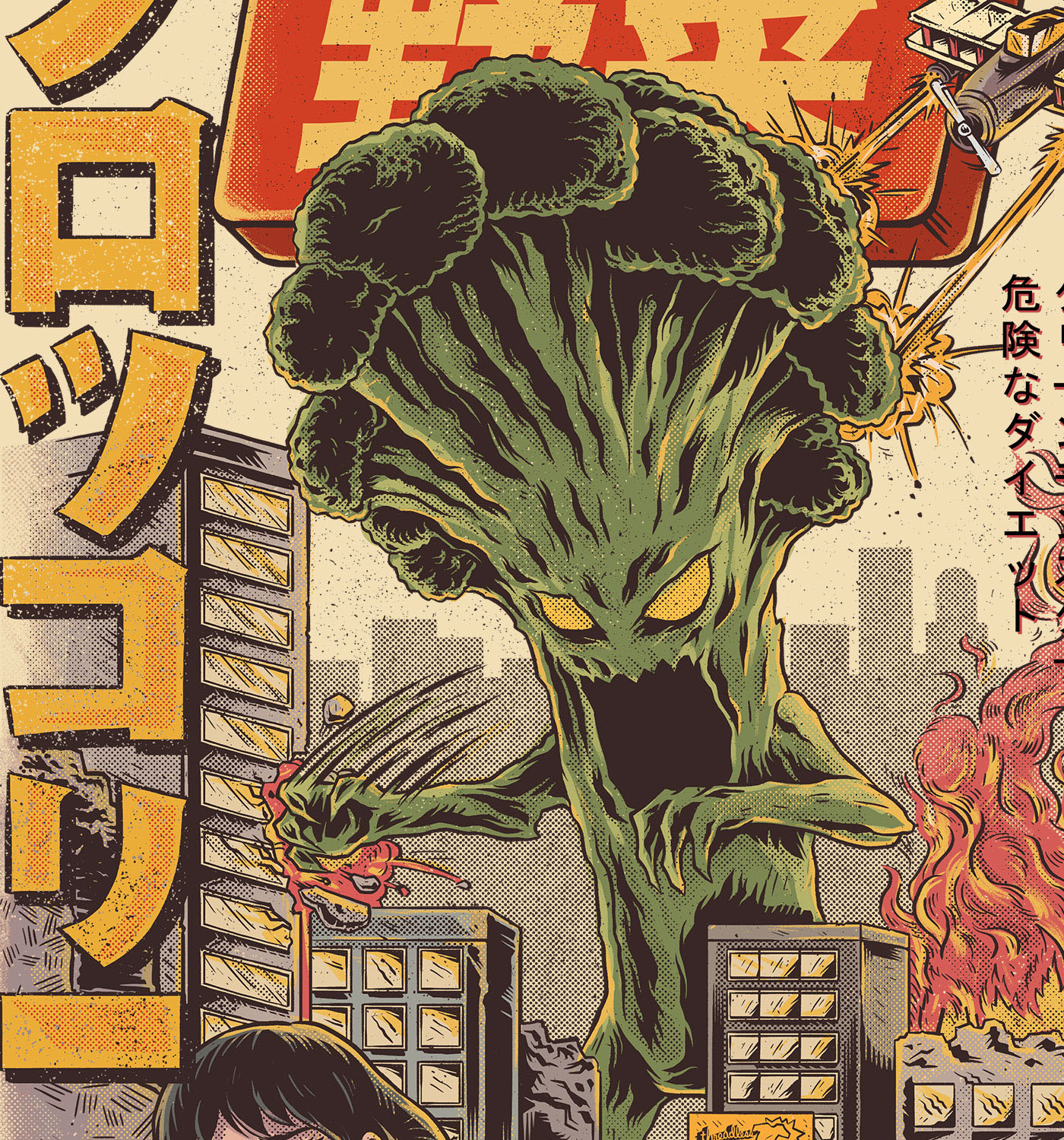 What got you into illustration and what keeps you illustrating?

It's something that all of us here in the studio have a passion for, illustration is the tool we use to share with people our vision of the world. 

Day after day we try to get better at illustrating and the feeling when you see the improvements in your work is more than enough to keep us working happily.


Tell us how Ilustrata started!

It started as an escape from reality. We were in the middle of our final year in graphic design, and we realised that we don't have any place to work after graduation because we live in a small city with no company that does illustration or art. It kind of scared us, so we decided to try something on our own instead of selling out to the local market. 


We see a lot of Japanese influence in your art. What does Japanese culture mean to you?

We live in a very global country, so we grew up with exposed to a lot of external influences. But since we were kids the strongest influence has come from Japanese products like Dragonball Z, Pokémon, Ultraman, Godzilla, and others... Besides that, we've been influenced by comics, especially mangas and American comics and looking back, I can see these elements have made a significant impact on our work aesthetic.


For this week's release of Kaiju's Ramen, could you tell our readers more about the idea behind this artwork?

We have a lot of designs based on Japanese food and kaijus, the mixing of these two icons and themes come almost naturally to us. I just started to think "How would a kaiju eat ramen?". Bang, it was done haha!


Last but not least, if you were a Kaiju, who would you wanna fight? ;)

I don't know if I would fight the first thing, but I would love to explore some mysterious places like the deepest depths of the ocean, the unexplored forests, and after that, I would fight against anyone who tries to hurt these places. 

Ramen or Rampage? How about both? 

Kaiju's Ramen by Ilustrata drops this Saturday (27 April) at 9am ET! It might be your only chance to own a kaiju, ramen-ber to get it!